Major James E. Rieger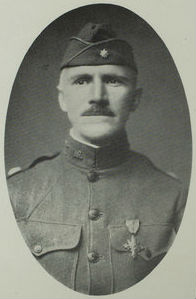 Major J.E. Rieger, 139th Infantry.
Front Lines.
21 October, 1918.
No addressee.
Encloses newspaper clipping "Son Falls in Fight, Father Takes Place: Major (Clay C. MacDonald), Chafing in Division P.O., Joins Battle When Lieutenant Dies".
From P.O. Selby's Biographies of Men and Women of Whom Adair County is Proud; Broadcast in the 1970s on KIRX:
[James E. Rieger] attended the State Normal School, then the University of Missouri where he studied law and was graduated in 1897.  He established a practice in Kirksville with his brother Joe.  He was prosecuting attorney for the county in 1909-1911.  He was best known as a trial lawyer, and except for his years as prosecutor, he was usually in court as a defense attorney for some helpless young man who needed a friend.

He early took an interest in the national guard and went to the Mexican border with the Fourth Missouri Regiment in 1916 and to France in 1918 as a major in the 35th Division.  He was promoted to lieutenant Colonel and for a time commanded a regiment.  He received the Distinguished Service Cross and the Order of the Purple Heart which were won for distinction in battle.

In 1920 he was a candidate for the Democratic nomination for Congress but was defeated in the primary.  he was a Mason and a Rotarian.

He was a long-time Deacon in the First Baptist Church and presented the church with a stained glass window which he had procured as a souvenir in Verdun.  He also obtained for the national guard a German howitzer which is now mounted in Veterans Memorial Park as a memorial to Company C of the 4th Missouri.

The national guard armory bears his name.  He died July 30, 1951, and was buried in Highland Park Cemetery.

His names: James Edward Rieger"
Just Before the Battle.
The long night marches had ended, the dropping of weary feet through mud and debris was over, the dropping through rain and blackness made double so by dense forest was done, and now concealed in the Forest of the Arragonne by day the army of attack quietly rested.
The order of battle was handed me and I read it to my assembled battalion. The day for which the long training, danger and hardship, had been incurred, had come, we were to attack the hill where forty thousand French soldiers had fallen in defeat two years before; but death was there, artillery, machine guns, mines, wire, trenches, tunnels, a mighty strong hold. We were to be able supported. I told my men all.
The order was received in silence, their faces took on a determined look but no fear was there, I noticed them. I noticed them later all wore smiles for the hour of the vindication of right had come: soon was heard the songs about mother about stanzas of baby songs, cradle rhymes, lullabies of childhood all of mother. Many voices harsh, untrained, unmusical became sweet with melody, each his own hearts (?) (?) was giving expression. Wife, sister, sweetheart, friend — all forgotten — just mother. Then as the truth came to them that some may not return, long forgotten songs of religion, learned in school days gone by were heard — songs of the Lord, and mingled together were the notes of love and (?) of mother and Jesus — all others forgotten.
I later heard those same voices when in the attack, not now the soft voice of song but the shout of combat a mighty roar. The voice of the people is not the voice of God, but the mighty voice of soldier men, seeing before them those who had (?) and (?) and (?) and murdered and burned and enslaved, we became as the avenger of God and spoke with His voice and acted with His power. I'll never forget their look their voice. We (?) everything before us capturing and wounding and killing the enemy in the face of artillery and machine guns. I heard voices again now subdued — they were of mother and Jesus still. I heard the wounded not a cry — just a song, strong for mother as the wounded one felt the earth strong beneath him, but a sort of farewell to her who bore him and a clinging to an unseen hand of power as life slowly slipped away.
Mother you are honored above the King the President the General the great of earth. The song of heroes is of you. Could you ask more than be first and last by those whom the whole Liberty loving world delights to honor, your name and Jesus bound together in a heroes life and death. "Mother behold they son, Son behold thy mother."
J.E. Rieger
Msv1_R1. Violette Collection of WWI Soldiers' Letters. Mudsp Collection V1. Truman State University Special Collections.