Sgt. Byron H. Beatty
Sgt. Byron H. Beatty, Divisional Laboratory, American Expeditionary Forces.
Somewhere in France.
27 August, 1918.
To Mr. & Mrs. Henry.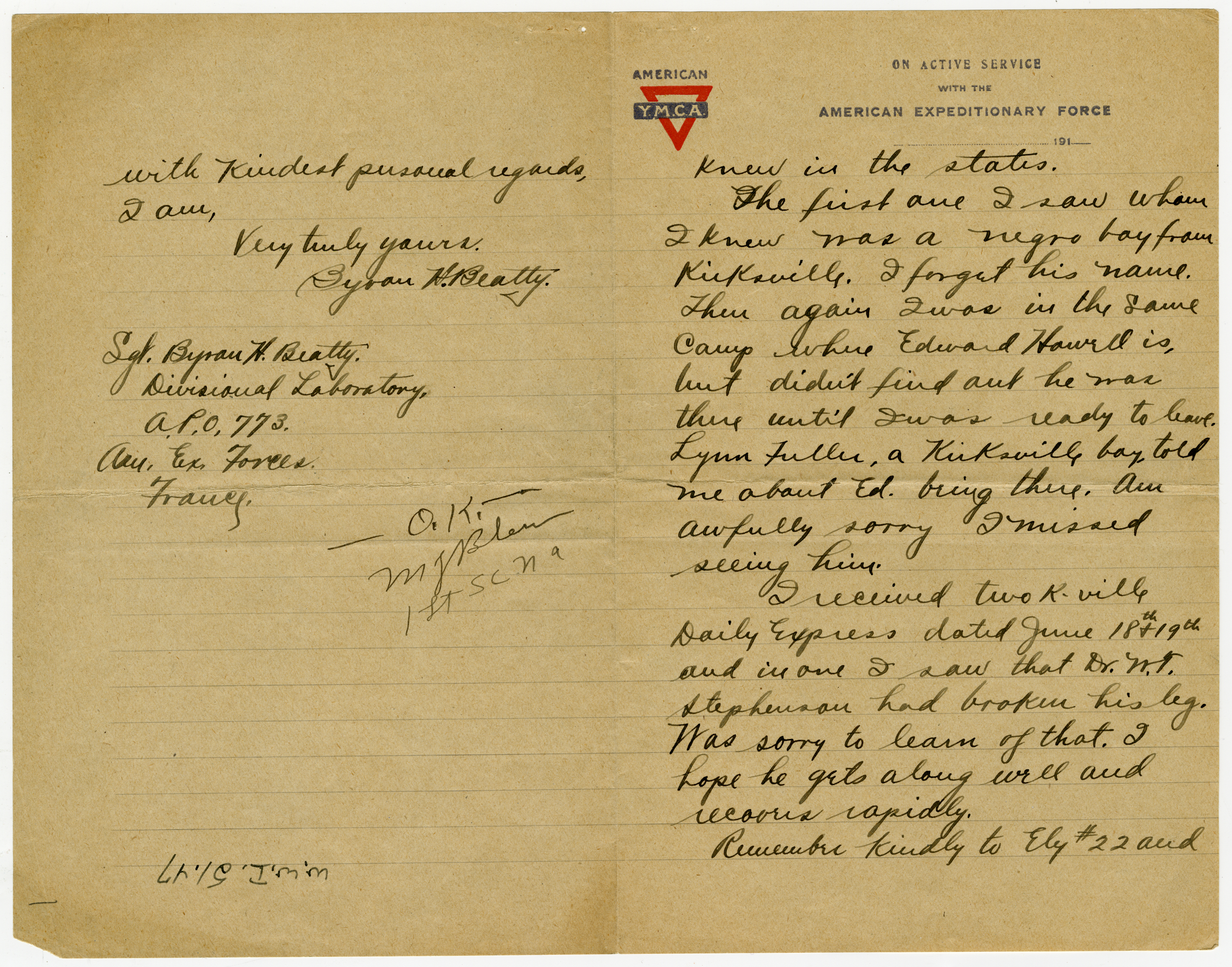 My Dear Mr. & Mrs. Henry:- No doubt but that this will come as a surprise letter to you both, but I ofte think of you and the other good people of Kirksville & of Ely Commandery #22.
When I was in Camp Merritt,Mother & Sister Margaret came up to see one Sunday and I certainly enjoyed their visit, were if it was only a day.
They told me about Dr. Clifford Henry coming to see them & how much they enjoyed his visit.
Since my arrival here in France it has been my good fortune to travel a great deal. I have travelled first, second, and third class (and also in Box Cars or 43rd Class as we call it). The boxcars are about 1/2 the size of ours and each one is labeled on the sides, "Cheveaux 8- Hommes 40″ which means "8 horses or 40 men." When 40 of us get in one of these "side door Pullmans" it is sure enough crowded.
But the trains that run to & from Paris are real good and make fast time.
I was fortunate enough to be routed via Paris not long ago and we remained there for 2 1/2 days, taking in the sights. I saw many things I had often read and studied about. Paris is both wonderful and beautiful but the good old U.S. is plenty good enough for me.
At present our Laboratory Unit, of two officers and three men, is located in a pretty little French town. Just across the street from us is a Big French-American Hospital. We are doing Bacteriology work for both them and the active Division to which we are at present attacked. It looks now as if we will be here for some time to come. But one can't tell one day where he will be the next.
Close to this town there are some old old castles, and about 4 kilometers from here is an old Roman Amphitheater, built years and years ago, about the time of Ceasar. I haven't been out to see it yet but as soon as I get time I am going.
The day before I left Fort Leavenworth, Kan., I saw "Truss" Brewington in Kansas City, June 1st, and he told me about the K.T. Conclave, held the week before, at Columbia, and said that Mr. Hatfield had been elected as Grand Commander. I was indeed glad to hear that. He is one of my best friends in Moberly and I wish the best of success during his administration.
In one of the Camps where I happened to be I had the good fortune to come out alive, often , after an Air Raid, one night. It sure makes one feel funny to hear all the noise and see the shells explode. But I doubt if I'll get to be in anymore of these, unless I get closer to the front.
In every Camp where I have been I have met men whom knew in the states.
The first one I saw whom I knew was a negro boy from Kirksville. I forgot his name. Then again I was in the same Camp where Edward Howell is, but didn't find out he was there until I was ready to leave. Lynn Fuller, a Kirksville boy, told me about Ed. being there. Am awfully sorry I missed seeing him.
I received two K-ville Daily Express dated June 18th & 19th and in one I saw that Dr. W.I.(?) Stephenson had broken his leg. Was sorry to learn of that. I hope he gets along well and recovers rapidly.
Remember kindly to Ely #22 with kindest personal regards,
I am,
Very truly yours.
Byron H. Beatty

Msv1_B. Violette Collection of WWI Soldiers' Letters. Mudsp Collection  V1. Truman State University Special Collections.