H.W. Kretzmeier
H.W. Kretzmeier, 7th Regiment, Radio School.
Camp Perry, Great Lakes, IL.
5 May, 1918.
To Dr. E.H. Henry, American School of Osteopathy, Kirksville, MO.
In 1913, Herbert W. Kretzmeier was President of the Mathematics Society at the First District Normal School.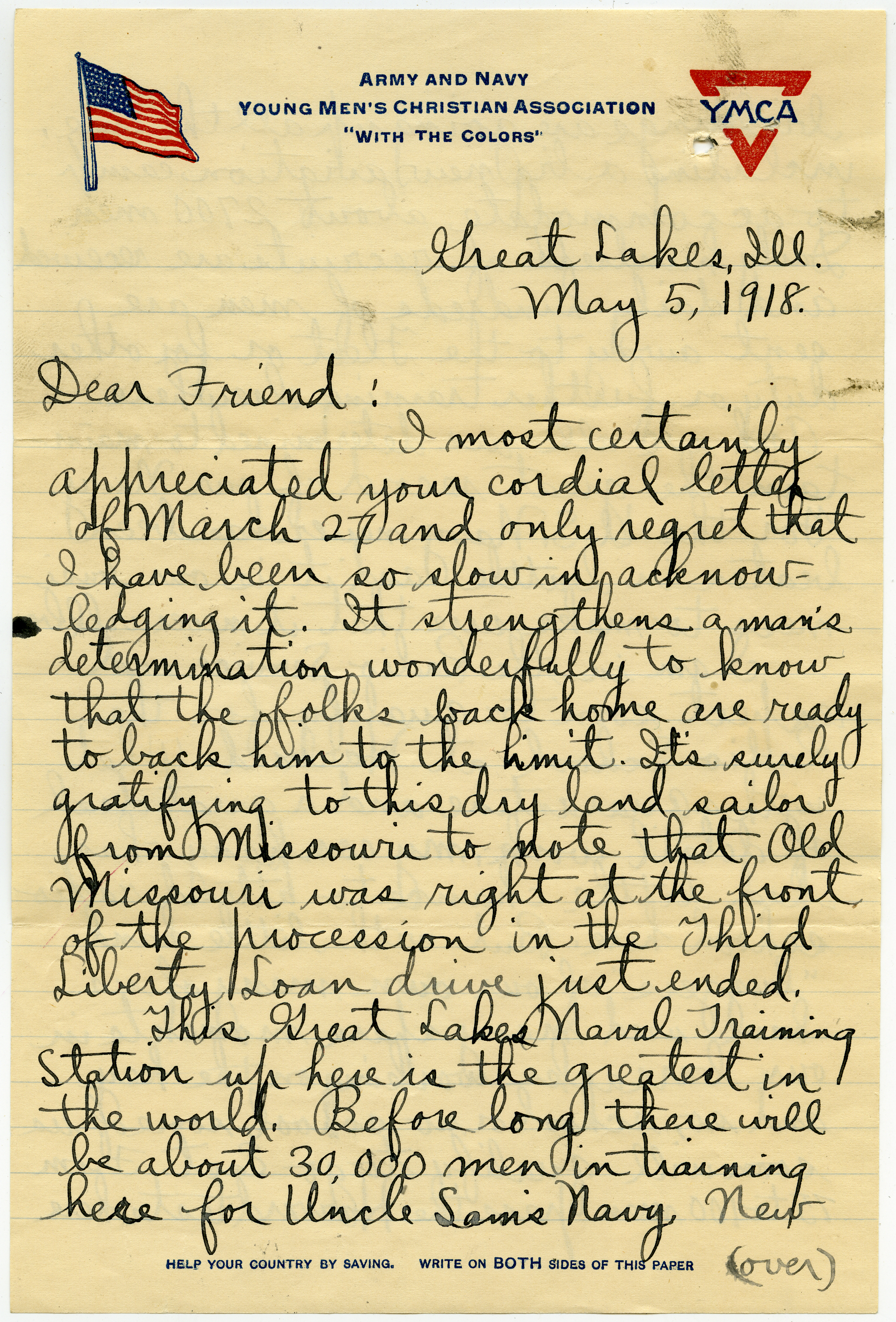 Dear Friend,
I most certainly appreciated your cordial letter of March 27 and only regret that I have been so slow in acknowledging it. It strengthens a man's determination wonderfully to know that the folks back home are ready to back him to the limit. It's surely gratifying to this dry land sailor from Missouri to note that Old Missouri was right at the front of the procession in the Third Liberty Loan drive just ended.
This Great Lakes Naval Training Station up here is the retest in the world. Before long there will be about 30,000 men in training here for Uncle Sam's Navy. New buildings are going up all the time, including a big new aviation camp to accommodate about 2700 men. Daily hundreds of recruits are received and daily hundreds of men are sent away to the Fleet or for other duty or further training elsewhere. And we all are determined to maintain the great record of our Navy. For the U.S. Navy never has been beaten in battle and it is our business to make sure that it never will be.
I am in the Radio Service and expect soon to qualify for the Radio School at Harvard. What with a quarantine and a great deal of detail work, my company has had little chance to attend radio school here. But with little hand "buzzers" of our own many of us have used many spare moments in our barracks working on the key and so, school or no school, some of us soon will qualify to go East. From 75 to 100 men pass the Harvard tests here every week. Radio becomes more and more interesting as a fellow gets faster at receiving. The Harvard test requires a speed of from 75 to 90 letters per minute.
I appreciate very much your offer to furnish small comforts. I do not use tobacco in any form but I enjoy candy, any kind of good candy. And I will laso be glad to hear from you again sometime or from some other member of the Rotary Club. A fellow cannot help but feel from your letter the splendid sprite and enthusiasm of the Kirksville Rotary Club. And so he's glad to get via letter all of that spirit and enthusiasm that he can.
Before closing wish to mention my mother. She lives in Kirksville at 407 S. Marion St. and is a practical nurse. She is a widow and depends entirely upon her own efforts and my allotment to maintain both herself and my small brother Lawrence. You could render me no greater service than by turning her way any suitable cases to nurse or any suitable roomers, if at any time you should have the opportunity. She rents the house and has been in the habit of subrenting part of it to small families. A fellow in the service realizes more than ever before how much a mother like I've got means to him. My enlistment was a much greater sacrifice for her than for me, yet she is glad and proud that I enlisted.
Whenever I come home on a furlough I shall most certainly let you know.
Sincerely yours,
H.W. Kretzmeier
P.S. If you should desire, you may publish any part of my letter except the paragraph in regards to my mother.
Msv1_K. Violette Collection of WWI Soldiers' Letters. Mudsp Collection V1. Truman State University Special Collections.